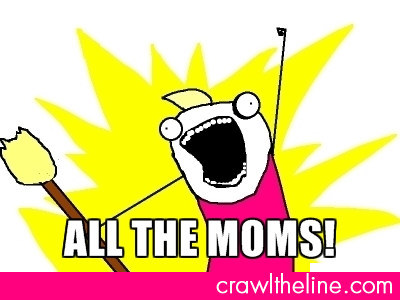 If you haven't heard (because you've been living underground since the dawn of time, or you're a vampire who doesn't watch television or read magazines, in which case, thanks for stopping by my blog, vampy!) Mother's Day is fast approaching. The ONLY day off we (might) get all year, us Mom's are pretty PUMPED about Mothers Day.
Don't let those fools who say "I don't need a special day to celebrate heaving a child through my womb and dealing with fecal matter on a semi-regular basis, I LOVE my job of being a mother" make you think Mother's Day isn't the holiest of all days. It is. It's right up there with Xmas!
Mother's Day (!!!) is the day that all of you sad sacks have to BOW TO OUR MIGHTY VAGINES and accept our all-knowing power over you (you being our partners and children.) God help the same-sex female couples who have TWO MOMS (!!!) on Mother's Day! Double the power! Double the mani-pedi's! DOUBLE THE BREAKFAST IN BED!
Seeing as my children STILL don't know how to make their own damn breakfast (how freaking hard is it to pour a dang bowl of cereal, folks!) chances are I will be doing some work that day, but I warn you now, Hubs, you'd better throw it down this year. Throw. It. Down.
Alas, this post isn't about me and my once-annual urge to power-monger my family, it's about the fact that I have MORE Mom's than you. Legit. And I'm going to celebrate them all!
As some of you may know, my family is WACKED. I've accepted it. It is what it is. Some people are born with money and great teeth, some people are born with straight up crazy. Thankfully I can earn or buy the former, cause I got the latter! The advantage is, being surrounded by crazy folk my whole life gives a lot of fodder for humor-based things like joke-telling and blog writing. Disadvantage? I see none. :)
My immediate family resembles no tree I've ever seen... it's more like a subway map. A really detailed one. I needn't go into further detail then that, suffice it to say that my parents like getting married. A lot. I'm okay with that. Spread the love, people!
Because
my Dad likes getting married, since I was born I've had a grand total of 4 "Moms", including my Grandma. (Ed. Note: My dad never married my grandma. I wasn't born THAT close to the north pole!) All lovely, amazing women each of whom has taught me so much about life and love.
We'll start with my Grandma, Jeanette.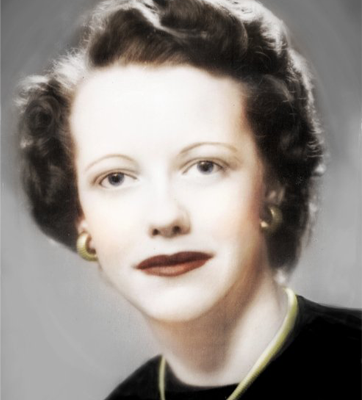 My Grandma at just 16 years old! 1948
My grandma is the woman who raised me. From the time I was just an itty bitty baby, and the majority of my life until I was 18, I spent it with her.
Although our relationship could be tumultuous at times, we were always there for one another.
Life wasn't easy, we didn't have much, but my Grandma did everything she could to give me what she had. She wanted me to feel that I had a place in this world, and that place was with her.
She would drive me an hour to school, cart me around to parties and to and from work whenever I needed her to.
She was the one doing my homework with me, pushing me to be the best version of myself. Sometimes I loved her for it, but then I probably hated her for it more than I should have.
My grandma is like an M&M, hard on the outside but soft and sweet on the inside. From an older generation, she is quite set in her ways, but she's also open to change. Being a french catholic Canadian raised in the 1930's and 40's, she probably wasn't immediately open to the idea of me running off to the "big city" to be in the Music Business, Getting Tattoos and ultimately ending up with a 6 foot tall black man, but she's never criticized me for any of those choices. She pokes fun at them, in the way she pokes fun at everything, but the SECOND someone challenges me or my decisions, she's the first one to back me up and I love her for that.
Granny and Baby Cash
Not afraid to speak her mind, even when it's generally to stick her foot in her mouth, my grandma has always been a great source of comedy. I hope that I get my sense of humor from her. Maybe a little bit more fine tuned, though. ;)
The thing that makes me sad is that now, in our current lives, my grandma and I don't get to see each other very often. She was hospitalized after a series of mini-strokes a few years ago and being a five-hour drive away makes it difficult to break from every day life to visit her. We try to make it up there at least twice a year, which isn't nearly enough nor as much as she, myself or my kids deserve.
While she may not be the "sweet old granny" most people get, my grandma was more my Mom than anything. I think she has always seen me as more
her
child than her grand daughter, and I hope she knows how much I value her love and support then and now.
-------------------
Since there's no way to logically do this without seeming to show preference (which I don't... another issue that comes with having MANY Mama's!) I will just go chronologically...
My "Mom-Mom"
When you have a lot of mother-figures in your life, it's hard to figure out a way to indicate who you're talking about when you say "My Mom", "My Mother", "My Other Mother!" without sounding super contrived and confusing. Since I didn't grow up with my Mom-Mom (aka the woman who gave me life) in the traditional sense, separating these roles has always been tricky. Each one has placed so much value and strength into my life, and although they each take on the same "role" their core relations to me are so different and intricate.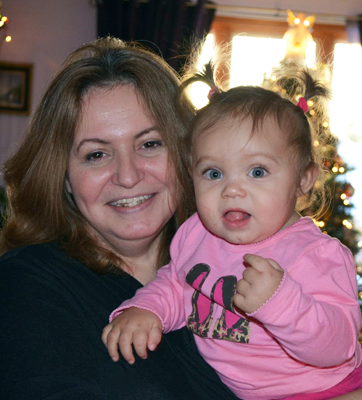 My Mom, Stella, and my niece Maya!
I think she got the "cutes" from me! ;)
My Mom Mom, Stella, was the ripe old age of seventeen when I was born. Always having been a fighter, there's nothing in this world she is more meant to do than be a mother.
A beautiful soul, with equally beautiful and different children (five of us, to be exact) Stella is basically a giant walking heart.
Her capacity to love is only outweighed by her capacity to give. She gives to everyone she knows and she does it with her whole heart.
Although some difficult circumstances kept us at a distance for the majority of my developmental and teen years, we always seem to find our way back to each other.

For a long time my Mom was sort of a mystical creature to me, which is fitting since she loves all things mystical. She wasn't a permanent fixture in my life, but she was always there... in my heart and my mind. It's almost like I could feel her love blanketing me, even though we were rarely physically together she left a strong imprint on me and no matter how much I was told or conditioned to think otherwise, I knew that the only thing I needed to know was how much she loved me.
As I got older, more freedom, more sense of my self, I began to explore a stronger relationship with my Mom. This only confirmed what I had known all along, that she was intent on giving her love to the world, and to me.
Again, I don't get to see her as much as I'd prefer, she has a life and my siblings to still raise. We visit as much as we can and talk online frequently. I hope one day we can build a strong bond where we talk every day, go shopping and spend time together the way that other mother-daughters do. I know that she is incredibly proud of me, and ultimately happy that the path I ended up on led me to be the person I am today. I know it was never easy for her to be separated from me, even for a moment let alone the majority of my formative years, but she and I have come to terms with that, I think.
From my Mom, I get my creativity and my strong sense of love and maternal instincts. Also my chin, face shape and TERRIBLE HAIR! (Thanks, MOM!) :P
----------------
Angela (now known as "Gran")
From the time I was six months old until I was around five, Angie was a permanent fixture in my life. She married my dad when I was a toddler and we all lived together for a few years before their separation. Although in hindsight I know how difficult of a time it was for her, she was the first "Mom" I really knew.
After she and my Dad split, I went back to Granny. Only by chance, about 10 years later, did we once again find each other, in a pet store at the mall, no less. I was shopping with Granny and she, with her now 3 other kids, and we spotted each other. She recognized me as the kid she'd mothered years before and within no time I was spending every weekend at her house. I felt so reconnected and I was so excited to be welcomed back into her family as her "other daughter". I was given a new family to be part of. A sister and two brothers, all younger than me, who became my closest siblings.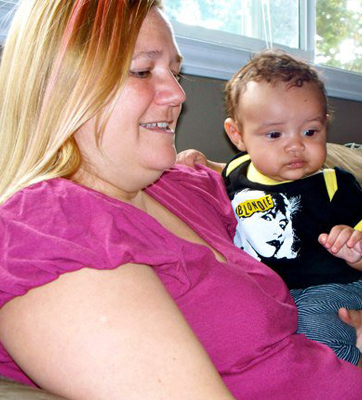 Gran and baby Cash (Geez, I need some new pics!)
Going into my Senior Year in high school I ended up moving in with Angie and her family, as things at "home" had taken a turn and I needed a safehaven. My "other mother" provided me with everything I needed to finish school and then go off and take on the world. I know it wasn't easy for her to let me up and move to Toronto, away from her protective arms, but she knows "how I am" and that trying to stop me would be impossible.
Now, even more years later (oh god, I feel old now) my children are lucky enough to have ANOTHER family and another place to call home. Another Aunt and Two more uncles! People, who I hope dearly, will become strong influences in their lives and give them the same strength, love and protection that they once afforded me when I needed it so bad.
Although it makes for some seriously busy Christmas-adventures, having so many more people in my kids lives, so many grandmas and grandpas and grans and "papa smurfs" around, it'll only give my kids more confidence and support and that's a pretty amazing thing!

From Angie, I get my strength and perseverance. Definitely my stubborn-ness. I WISH I got her hair!
----------------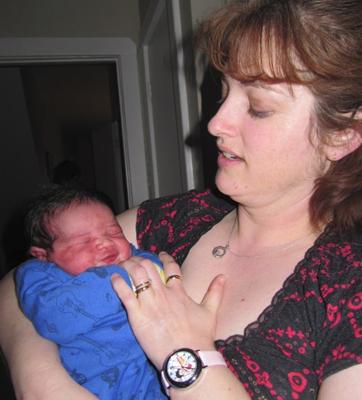 Nanny and Cashy before he was even cute!
Last, and most definitely NOT least, is my closest "Mother" (geographically) and I guess the most recent addition, too, although it has been a decade. My Dad's most recent wife (ugh that sounds worse than it is, I swear!) Judy has been a part of my life since 8th grade. She skipped happily into my life with her two kids, Jillian (Jilleh) and David (Uncle DAAAVE!) in tow, both pretty itty bitty back then (Jilly is still pretty itty bitty now, asamatteroffact!)
Judy has been SO MANY things to me in my life. Shelter from the storm. Personal Nurse. Sounding board. Psycho-therapist. Labour Coach. Support System. Babysitter. But also, and most importantly, a Mom. MY Mom. However late in the game she showed up, she still had to deal with me as a teenager, which definitely solidifies her rank in my books!
Judy is who I call when I'm bored, or driving, or sick, or hungry. She's who makes me laugh when I'm sad. Who makes sure I don't take life too seriously. She is the all-mighty NANNY, the one who Cash wants to call when he's got a boo-boo. She takes my kids on the weekends when I just need a break. She gives me shit when I'm being a butthead and tells it like it is when I need to suck it up and be a grown up.
Most people get confused when she says "and this is my daughter, she's 26 and has two kids!" because she looks and sounds about 16 years old and I'm pretty sure was like, 11 when I was born.
From Judy, I get my WEIRD sense of humor. I get my fondness of nerd-girl stuff, and I get so much strength, hulk size, in fact.
----------------
These are my Moms. I have ALL THE MOMS!!!! and it's pretty rad. I think I'll keep 'em!
I'm sorry and You're Welcome!